What do you do when you have a crush on a certain someone?
Well, while some of us would find ourselves busy plucking flower petals to help us determine whether the feeling is mutual, Harith Zazman took it a step further.


"You, you memang sangat cute" – if you have been keeping up with the local TikTok scene, you would have probably sung that instead of merely reading about it.
Even if you're not on TikTok, with over three million views for its music video at the time of writing and having made it into the playlist of local radio stations, this song may have already made its way to you. 
If you haven't listened to it yet, we suggest that you do. But be prepared for the earworm because it is one vibrant and catchy song!

 
Harith came up with the honest confession that's complemented with the sweet tune of the ukelele, as he was smitten by – well – a cute girl.
"Yeah, I made a 15-second video just to express my feelings towards my crush and post(ed) it on TikTok and it became viral," he told us.
"Mandi tak basah, makan tak kenyang (in other words, feeling restless) and I can't sleep," was how he described his situation as he was struck by Cupid's arrow.
To cope with it, he ended up spending 20 minutes before going to bed on one particular night to complete the 15-second tribute.
His efforts, needless to say, did not go to waste.
MFMF., in case you didn't know, is a group of music producers that consists of Justin, Zen and Brendan.
They have established a strong reputation in the local music industry. Besides memes, bubble tea and long walks on the beach, they also enjoy letting their creative juices flow by creating cool contents on TikTok and making music for their friends.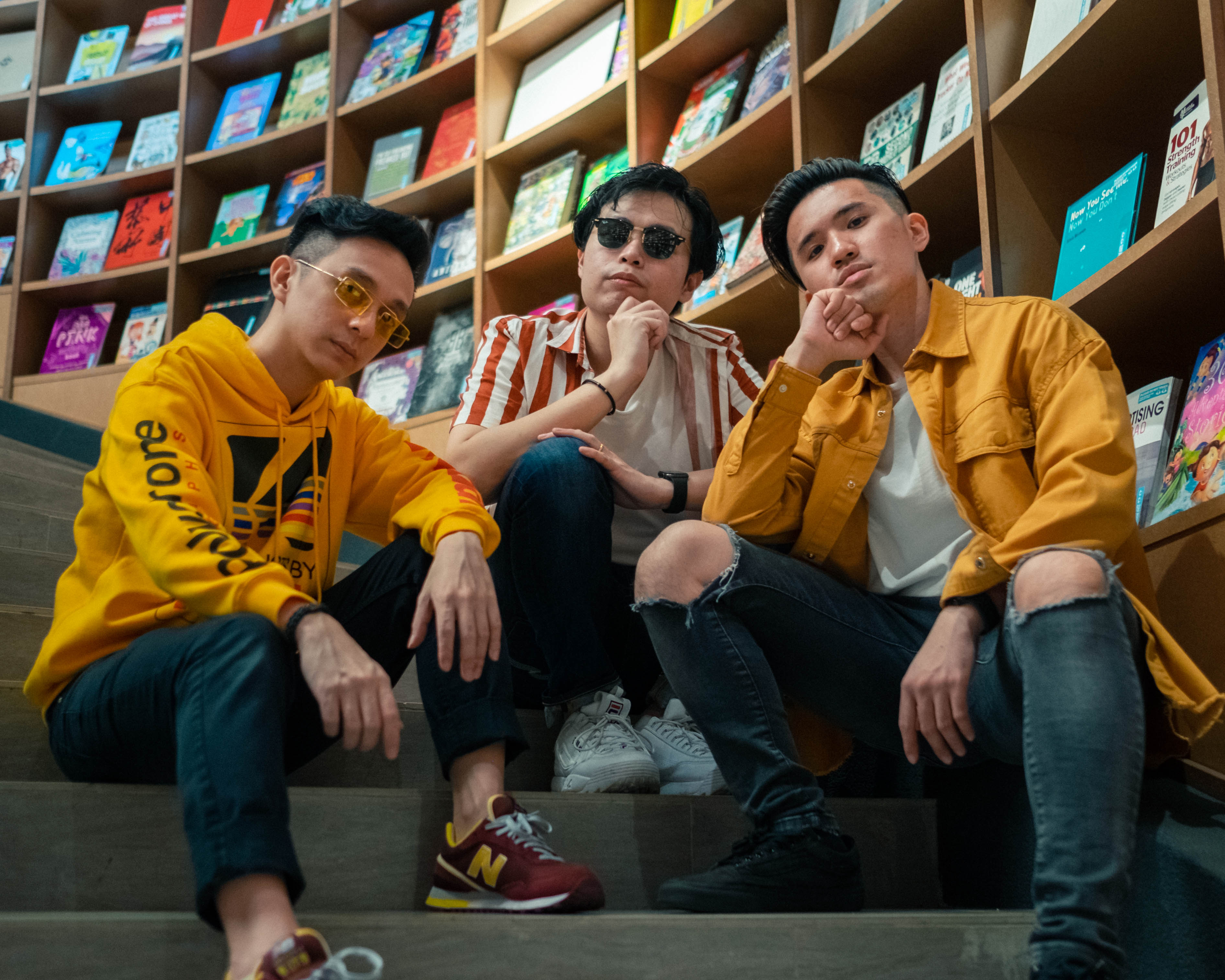 Although they were practically strangers when they came across Harith's viral clip, they took the chance to approach him.
"We loved it (the song) so much that we wanted to help him put out a full version of it. So, we slid into his DMs but… he ghosted us," they laughed.
"I thought it was a scam and I know I'm not a singer," Harith explained to us why he didn't immediately respond to MFMF. 
The trio was not one to give up easily though.
"A week passed and we thought, 'You know what? Let's just leave him a comment. He'll have no choice but to answer us there!'
And he did. And here we are!"
Fans of the song have Harith's friends to thank for they were the ones who successfully gave him the encouragement he needed to give it a shot! 

LOCA B, who is no stranger in the local rap scene, was also approached by MFMF. on Instagram. Unlike Harith, she was quick to decide.
"I didn't really think much other than it was a fun project to hop on," she said. 
MFMF. added: "LOCA has always been on our radar as one of the artists we want to work with but we never had a suitable song until 'Cute' came along. Immediately, we knew it was fitting for LOCA B's unique rap style plus her ability to also sing, as a different flavour to cut through the 'cheesiness' of the song!
"The felicity that LOCA B brought to the last chorus is our favourite part of the song."
"We actually made this song during the thick of the lockdown, the Movement Control Order (MCO), in March. Trying to write a song online is actually quite difficult because of the inevitable lag of video calls, but after weeks of troubleshooting, we managed to create a seamless song-making process all completely online.
"From composing to arranging and even recording Harith's vocals! It was certainly a challenge, not forgetting how this was also Harith's first time ever singing on a track," MFMF. revealed. 


With only three of them at the studio (and the MCO restrictions), they found themselves facing a dilemma to acquire the chanting crowd they needed. But as the saying goes, where there's a will, there's a way!
"In order to get the 'crowd effect', we had to resort to quite a few weird methods. We had to record each of us singing in different places like the toilet, the hallway, and the kitchen, at different distances from the mic while also changing our voices to sound like 20 different singers to make a crowd," they explained.
Check out the process below:

 


Harith described his new experience as super fun.
"This is my first time having to sing properly and I was nervous – frequently going in and out of the toilet. But working with MFMF. was the best. Even though we just got to know each other, we already have chemistry," he elaborated. 
Speaking on the vision of the song, Harith said, "I just want people to listen to this song and smile and they can share this song to his/her crush or cats or anyone that makes them happy." 
MFMF., as producers, also aimed to make a fun song that everyone – no matter young or old – could sing along to. They wanted to create "a song so cute that you can't help but to smile when you hear it."
Judging by the response, it is safe to say that they have managed to do just that! MFMF. attributed it to the genuineness of the message the song carries.
"How could you not? It's an adorable song by a guy swept head over heels by a crush!"

Despite its success, Harith, who repeatedly reminded us that he does not have a background in singing, occasionally feels the sense of awkwardness when his voice 'suddenly' goes on air.
Of course, his friends teased him for it, but in a good way, he assured.
Looking back, the immediate thought that ran through his mind when he first heard the full version of the song was, "Damn good weh this one."
MFMF. felt the same way. LOCA B also found herself excited to hear it.
"I was told that Harith and his team were happy. That's always my aim; to bring as much as I can to the table and please the people involved," she reflected. 

 


According to Harith, his mother would not stop playing the song. She plays it every day when she goes to work.
She's a proud momma moment indeed! 

 
Alhamdulillah 💛 pic.twitter.com/gsG7CAOHGk


— Harith Zazman (@harith_zazman) June 18, 2020
Harith is also the one responsible for the cover art of "Cute", which is now featured on Spotify, Joox and Apple Music.
They worked hard to make a music video that would match the 'cute' theme too!
Harith's skills in video production certainly came in handy. He is part of Sterk Production. Harith co-directed the music video with Ashrafiqal Aleef. Many were wowed by the aesthetically pleasing result they achieved. 
MFMF. said, with Harith being the mastermind behind the direction of the video,  they had no clue what the storyline was.
"All we were told was to show up in yellow and 'be cute'. No joke."


It was a fun process for Harith but he admitted that it was rather challenging due to the MCO restrictions.
They had only three people for the production crew. He knew he had to keep it simple but still come up with something that could make the people smile when they watch it.
With the bright and cheerful vibe of the music video, it certainly sets the tone to turn a frown upside down. 


Within two days of its premiere on YouTube, the music video garnered over one million views. On top of that, it also trended  #1 on YouTube!
Considering it was a project done for fun, the overwhelmingly positive response certainly took them by surprise. They went through the roller-coaster ride of feeling surreal, shocked and touched. 
Psst… Harith revealed that his crush is featured in the music video too. 
All of them had only good things to say about their experience working together for the song.
Both Harith and LOCA B spoke highly of MFMF.. 
"They are so good. I'm not a singer but MFMF. – they are like magicians. They taught me a lot," Harith said. 
"It was a new experience with MFMF.. I usually just do what I feel is right – melody-wise, harmony and such. They've very technical and know music well, so they guided me a lot in harmonising, finding keys," LOCA B stated.
She also found Harith to be a fun and down-to-earth individual to work with.


MFMF. expressed their gratitude for the opportunity to work with the two artists.
"We are so grateful to be able to work with such easy-going, fun and daring people like Harith and LOCA B. We really pushed them out of their comfort zones to make this song.
"With Harith, having never been a singer, and LOCA B having no formal training in singing and harmonising on a track before, we're proud, and thankful of them for trusting us."
In case you're wondering, yes, there is a possibility to see them working together again in the future!
But for the time being, you could expect MFMF.'s new release for Hael Husaini soon. LOCA B would also have a single out in August.
You can follow their journey at:
Harith Zazman

Instagram

TikTok